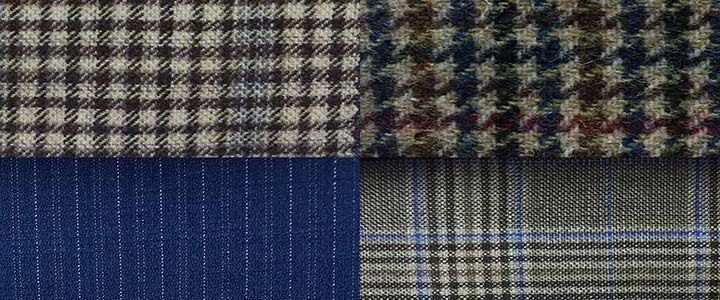 Gentlemen's bespoke suits are a staple of office life. They give confidence and project an aura of self-assurance that's like a suit of armor. But what's the best fabric for your office suit? In general, suits and jackets are made from one of three fiber types: wool, cotton, or a synthetic. Cotton and synthetic suits tend to be hardwearing. Wool is less so.
Exposure to heat and chemicals can damage wool suits – even getting caught in the rain can spoil the fibers. But wool is still the finest material for men's suits. It's versatile and can be woven thickly, unlike cotton. It is also rich, full of body and great at holding heat. And tailors love it because it keeps its shape so well.
All that remains now is to decide which wool to opt for.
Worsted wool
In office suits, the most common type of wool tailors use is Worsted. It's a good choice because it's midweight and hardwearing. You can wear Worsted all year round. The yarns normally come in a 60-80 twist – the higher the twist, the finer and lighter the fabric. The highest twist fabric is Super 180. The number relates to the number of threads per inch of fabric. High numbers mean high quality and higher prices.
Tweed
Another type of wool for office jackets is tweed. This is heavy and coarse and best suited to Nordic climates. On the other end of the scale, tropical wool works well in summer but is prone to wrinkling.
Flannel
Flannel can be used in business suits but is not a good choice for offices or in hot weather. Flannel is a soft, woven material that's brushed for super-softness. A fine metal brush is used to rub the fabric and turn the loose yarns into fine fibers.
Virgin
Virgin wool is freshly spun and, with its natural oils, is seen as water repellent. With minimal processing, virgin wool is soft and fine. It also absorbs dye easily. This makes it ideal for men's suits.
Merino
But the finest wool for gentlemen's business suits is Australian merino wool. It contains many natural properties and is remarkably soft and luxurious. Merino wool is also very elastic – suits stretch yet retain their shape. Merino fibers are also very breathable and react well to body-temperature changes. That means you stay warm in winter and cool in summer.
So, in short, the way to choose the wool for your office suit is to consider the following:
Playing it safe? Go for Worsted – you can't go wrong. Choose as high a twist as you can afford, but take your tailor's advice.
If you live in a cold climate and want to keep warm, or are into country pursuits, tweed will work well.
Flannel is fashionable again, but avoid it in summer and as a business suit.
If how a business suit feels on you matters to you, go for virgin woolevery time. It's soft and luxurious and you'll never go back.
Senszio carries wool fabrics from the finest brands, including Cerruti, Dormeuil, Ermenegildo Zegna, Fratelli Tallia Di Delfino, Holland & Sherry, Loro Piana and Scabal. See our fabrics library.