As the gradual casualfication of the workplace has meant that many people no longer wear ties, the art of the tie is losing its grip on our style identity. Whilst the bow tie has gained a renaissance, it is a shame that many of us have forgotten the simple appeal of a tie. But don't fret! Here we will teach you how to wear a tie, and some simple tie rules to make you look your best in a bespoke suit!
Your Tie Size
The modern look is defined by its sleekness and minimalism. This is no different for ties, get a nice slim one, avoid ones that are too wide.
Tie Pattern and Colour
Novelty ties are exactly what they set out to be, a joke. A flashy tie is hard to pull off, so pick something in more solid colors or a simple polka dot or stripe pattern.
Tie Material
Where you can experiment however is in tie material! The latest trends in ties are making them out of all possible materials. They are available in cotton, lien and even knitted wool. Don't just go for silk!
Matching your tie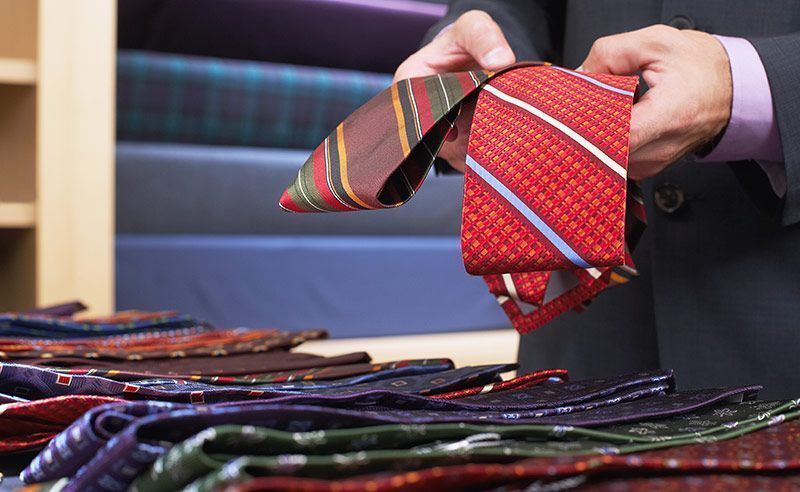 Choose a tie that is a darker colour or shade than your shirt. Never match designs, so if your shirt has checks, don't have a checked tie. When in doubt, polka dot ties go with both solid and striped shirts, just choose one in a more muted shade.
How to tie the knot
Keep it simple. Those eldritch knots or double Windsor you see floating around the internet will only make you look like you are trying too hard. Keep the knot thin with the four-in-hand method found here.
Tie Length
This is probably the most important and most well-known rule when it comes to ties. Make sure your tie just reaches the tip of your belt! Any lower and you risk looking foolish.
Tie clip
A tie clip (or tie bar) Should always be clipped between your 4th and 5th shirt buttons. Again, minimalism is key, stick to a solid gold or chrome finish.
If even still, you would rather someone pick out your ties for you, at Senszio we can provide you with a custom tie to match perfectly with one of our bespoke shirts or suits. Our master tailors always have your best look in mind! Check out our tour schedule here, or our other fashion tips and tricks here.