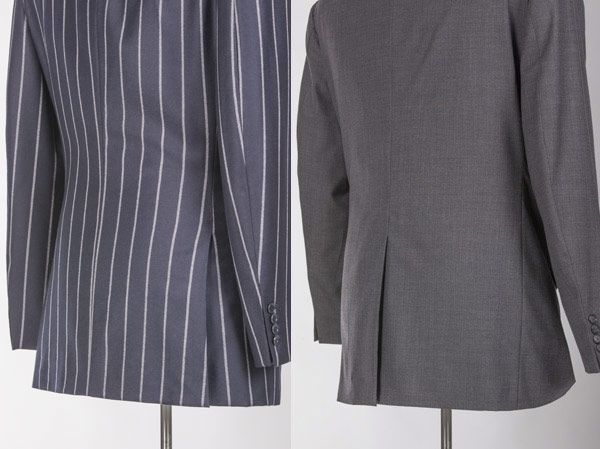 The Vent is a stylistic choice few have any idea about when they come in for their bespoke suit. Making your jacket wearable and flexible is possible with slits cut into the jacket. These are called the vents, and bespoke tailoring offers them in 2 options, center vent or side vent.
The one on the left with the cut down the middle is the center vent, the one on the right with two cuts on either side, creating a back flap, is the side vent. The difference they make is in the way the bespoke suit shapes the back and the buttocks.
The rear flap caused by the side vent may sit atop a particularly large behind and separate away from the sides of the suit which would emphasise the size of what it was attempting to cover. The center vent will not have this problem as it cannot separate at too dire a degree.
However, the side vent also creates two very straight edges down the sides of the bespoke suit. This gives the illusion of length and can subtly disguise a persons more curvy figure. The side vent also prevents a jacket from riding up while sitting, as the back flap can separate away from the sides, avoiding the fabric from bunching up uncomfortably. The center vent offers no such comfort.
In Short
If you are looking for a everyday suit, the side vents are superior. They offer a higher level of comfort, especially in an office environment where you will be sitting quite a lot. The cut forms the bespoke suit's straight edges, offering a longer and leaner look and finally the vents create a lighter and more breathable suit, perfect for summer months and hot climates.
If you are looking for a formal suit, the center vent emphasises a lean figure very tastefully. At an event or party, you are more likely to be standing. This causes the additional comforts of a center vent to be negligible.
Make note of these elements during the bespoke tailoring process. Though subtle, it is these subtleties that add up to the polished look gentlemen strive for.