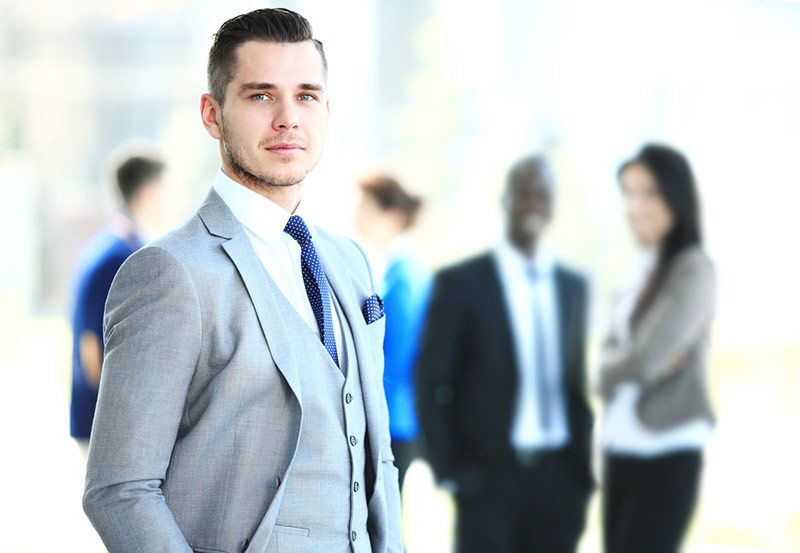 Great office attire – a well-cut gentleman's suit, white shirt, tie and well-polished shoes – is more than a way to look good at work. It's a passport to weddings, awards evenings, dinner parties and all kinds of other social functions. But let's just remind ourselves how to wear these basic elements around the office, so that we make the best impression.
Gentlemen's suits
Ask any good tailor and he'll tell you to buy a two- or three-piece suit. But the difference between a gentleman's suit bought from a store and one made especially for you is like night and day.
If you really must buy a suit off the peg, you should get a tailor to look at it and adjust it to fit. Your first suit should be navy or grey – black isn't versatile enough and is only really intended for 'black-tie' events.
A tailor-made suit will cost you a little more, but will fit like a dream and give you significantly more wear, and therefore better value, than a shop-bought suit.
Trousers
You should pay attention to the trousers you wear with your office suit. The two basic types are pleated and flat-front. Pleats are traditional business-wear and tend to be worn by older men, while flat-front trousers are very much in vogue for younger professionals.
Flat-front trousers offer a streamlined look and these work well if you're quite slim. For heavier-set men, pleated trousers will give more leg room. On the downside, pleated trousers also tend to make you look a little heavier. As a rule, you should try both and see which looks and feels better.
Dress shirts
A perfect white, long-sleeve dress shirt is a wardrobe staple for professional men. On the basis that your shirt should always be lighter in color than your suit, the white shirt sends out all the right signals and is seen in business as a real power statement.
Getting the sizing right is key, though. So measure your neck. Ensure that, when the collar is buttoned, your shirt is a good fit on the neck – that means fitting one finger between your neck and the collar. Two fingers is too big.
As for fit, go for slim-fitting. That's the style now and it's a good one. These shirts are tapered for your body and will make you look sculpted.
Dress shoes
Every man should own a good pair of dress shoes. If you're in doubt, ask the Human Resources departments of major corporations – these are the people who conduct interviews. Scruffy shoes are an immediate rejection.
In general, you can't go wrong with a pair of Oxford or Derby dress shoes. Keep them polished and they will never let you down. If comfort is a factor with you, you could consider loafers. These are slip-on shoes without laces. They're fine for regular office wear, but you should consider a pair of Oxfords for more formal events. Loafers are versatile and can even be worn without a tie or with jeans.
You should buy your shoes in the evening. With fewer customers, you'll get more attention and your feet have a tendency to swell as the day goes on. You should also wear the style of socks you intend to pull on with your new shoes.
Accessories
What about watches? Go for a stainless-steel or leather band when in the office. Belts? Match your belt to your shoes. Also, remember that the smaller the buckle, the more formal the belt. As for ties, many men see them as optional around the office these days. If you do wear one, try to ensure you don't mix your patterns – a check shirt and striped tie is never a good look. Go for slim ties to enhance the look of your suit. Socks should be matched to your trousers.
Office wear dos and don'ts
Invest in a quality navy or grey suit – tailor-made if you can afford it.
Experiment with pleat and flat-front trousers. Take advice from your tailor.
Invest in two or three long-sleeve white dress shirts that fit well.
Play it safe with a pair of Oxford dress shoes. They'll last well and look great.
Ensure any accessories match the rest of your attire.