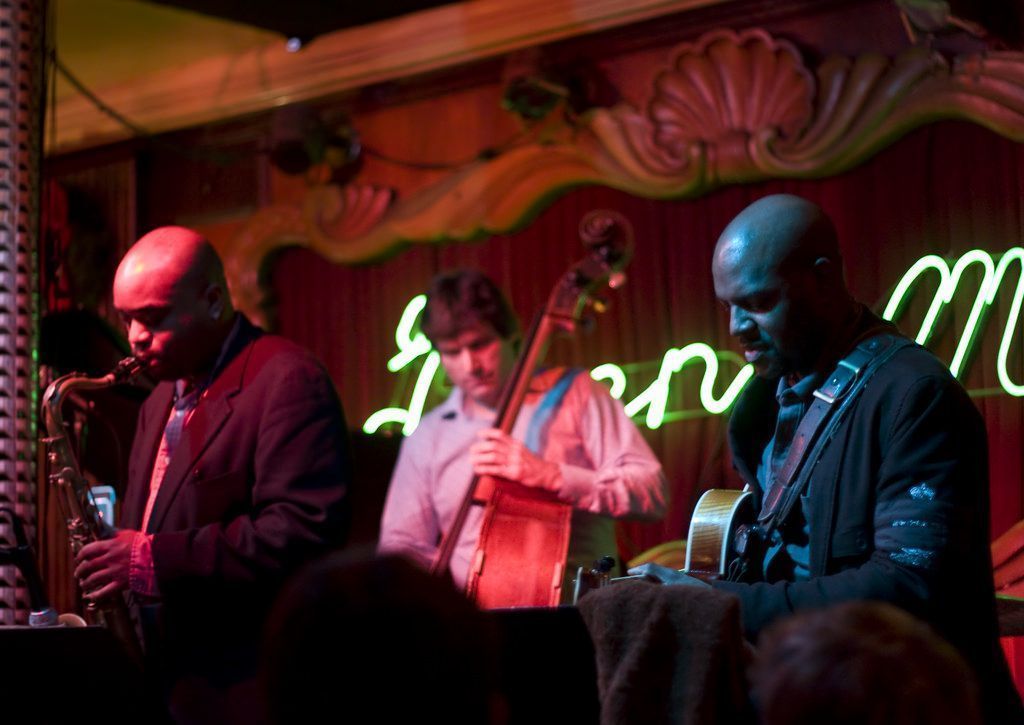 The Green Mill Cocktail Lounge, 1929
At the height of Big Band Jams, one location was attracting all the right talent, and all the wrong guests. The musicians would play their sets nervously, while the conductor kept one eye on his sheets the other on the maitre d'. The front door swung open, a snap of his fingers, the band switches to Rhapsody in Blue, Al Capone's favorite song.  He walked in and handed his long brown woolen overcoat. A subtle beaver-fur lined the collar and large black round buttons. Underneath he was wearing his trade mark Chicago tailored three-piece suit. A single-breasted jacket, in a rich dark blue with a soft pinstripe, made from the finest wool and lined inside with silk. His vest hides a white shirt with a stiff collar, as he walks through the club, into a back room not to be seen again. At this time, music was big and the men bold. A time when Chicago tailored music much like a bespoke master tailors a suit.
Maxwell Street, 1958
Walking down Maxwell street is a trip into blues history. The sidewalk saw groups of performers playing Muddy Water's famous Hoochie Coochie Man. Bright colors make their suits stand out among the crowds. Their large broad lapels left open with an equally high collared shirt, loosely buttoned beneath, partly due to the sweltering summer heat, partly to look cool. Each suit unique to each musician, their Chicago tailored suits could be recognized up and down. As the weather changed, so did the mood of the music, more soulfull and deeper, the colors changed to muted browns and greens, thicker woolen fabrics with tweed caps. Though a more toned down approach did not mean a sacrifice to quality, much like the soothing tones of their mumbled blues, the brass still shone in their Chicago tailored suits.
The Milk Room, 2014
Before or after show drinks have been known to set the right tone. An imposing façade of historic limestone blocks framed by beautiful multi story windows dwarfs the buildings surrounding The Chicago Athletic Association. Directly opposite millennium park there is no other real estate more prestigious, no building more dominating and nowhere more sublime. Within lies a rare gem, a speakeasy so popular it's 8 seat capacity has remained filled well after 1933. Inside the Milk room sits 8  Sharp Chicago tailored suits. Ties are thin, if worn at all, and lapels have shrunk to barely two and a half inches wide. The suit is trim, confident and straight. Grey is out in favor of black and deep blue, and now 2 buttons instead of three. Minimalism and a tight fit completes the look as they sip quietly through the finest prohibition era spirits and cocktails. Drinks untampered since 1925, an ancient lineage of quality and tradition mirrored in tailored suits alike.
Music makes this city, and a good Chicago Tailored suit makes a man. Start dressing with confidence, click here for when we will be back in the windy city and seize 2017.