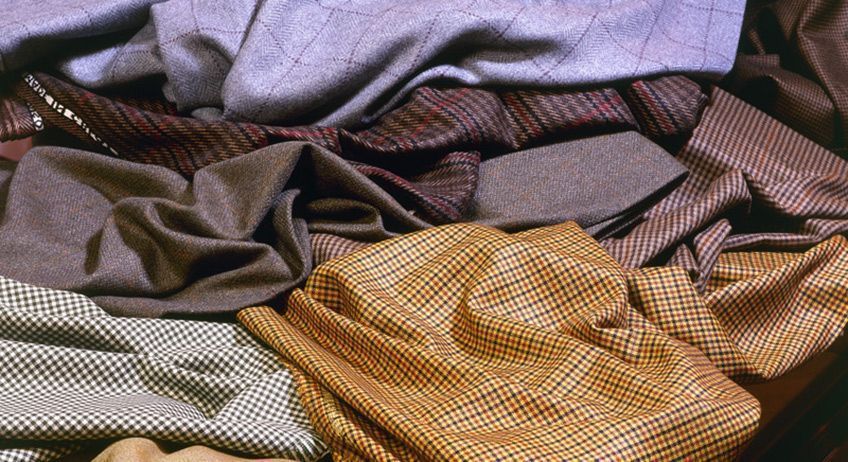 The wool suit is a common piece in everyone's wardrobe. It is the everyday work horse being comfortable in both summer and winter. Due to its versatility it is usually the first suit we purchase.  A good wool suit is a timeless piece of men's fashion and will last you decades if proper aftercare is given.
Understanding the Characteristics of Wool
Wool is a natural fiber that is tough and insulating. The fibers have millions of micro threads that create small pockets which air will naturally seep into. This creates a buffering layer of air that keeps you warm in the winter. These pockets also make the fabric very breathable, a gust of wind will also seep through cooling you in the summer. A lower thread count in a wool suit will usually mean it is thicker and better at insulating warmth. As the thread count increases, the fabric will be more orderly, and resulting in a sheen finish and a slimmer profile. These suits are more suitable for the summer, the thinness allowing for wind to easily go through the fabric.  High thread counts will also be less durable and require extra care. If your suit has a high thread count, you will need to be extra careful and gentler than you would a thick wool coat.
Storage
Let's start here assuming you have a new suit or have cleaned yours since your last outing. Make sure to store wool in a cool, dry place. It is a natural fiber and like all natural things, heat and moisture do not equal longevity. Your wool suit should be hung in a wardrobe for safety. Wrap a cloth garment bag around it and you're really doing it right. Make sure that the hangar you use is wide enough to fully support the shoulders, a thin hangar will leave a crease line. Wool trousers can be hung over the hangar cross bar or placed folded as long as there is no considerable weight upon it. Wool is breathable so any scents or aromas in your wardrobe will transfer to your suit. If you are worried about moths, Cedar hangars are a natural way to deter pests, and dehumidifying packs will help keep away the moisture that pests enjoy.
Daily Use
Try to keep your suit supported by the shoulders as much as you can. If taking off your jacket, the least you can do is hang it on the back of a chair, or better on a hangar or coat rack. If you are trying to get wrinkles out of your suit, the best way is using steam. Wool is very sensitive to heat and the gentle action of a steamer over an iron, will extend your suit's life. Daily wear and tear is unavoidable, you will be walking, sitting, sweating in your suit after all. Wool's fabric structure is slightly forgiving in this way, allowing for a degree of stretching and flexing. This is part of what makes it a good everyday wearer. When it comes to suit longevity however, there is one simple way to double the life of your suit. Don't wear it every day. Try to rotate your suits in and out, its best to have more than one look, and more than one suit anyway.
Cleaning
If you wear suits to work frequently, you'll want to pay close attention here. Keeping your suit clean by following a few best practices will help to increase its longevity. A wool tends to want to trap small particles of dust and grime between its fibers. Especially wool suits that have a smaller thread count. A good brushing with a fabric brush is recommended to get this detritus off your suit. The brushing process is gentle and does not use any harsh chemicals. These brushes are relatively small and can easily be thrown in your suit case on a long business trip.  Pay special attention to higher contact areas like the sleeves and trouser legs.
For deep cleans, never stuff it in your washing machine! Dry cleaning is an option if your suit is very dirty, but try to avoid over doing it. Dry cleaning uses very intensive solutions to get your suit clean, and will wear out your garments over excessive cycles. Try to limit dry cleaning your suit to only once or twice a year. Wool is self-cleaning to a certain degree with the keratin of the wool helping to break down sweat, for instance. If you are religious in brushing down your suit and storing it properly to let it breathe, this should be enough.
In short, regular care with brushing and quickly addressing any spill or smudge then Dry clean once or twice a year for that deep clean.
Stains
When it comes to stains, you need to act fast. This is to prevent the stain from drying out and setting in. Your goal is to add water to the stain in controlled amounts using a tissue to gently mix with the stain. Then you will use another tissue to absorb the water along with the stain in a soft dabbing motion. Keep adding water and absorbing again until the stain is removed, or no longer has an affect. Wool is a very heat sensitive fabric, so do not use hot water, or any source of heat to dry it out. As the fibers carry lots of air pockets within them, using pressure will only push the stain further into the fabric. When dabbing with a tissue be sure to be very light and gentle. If you have any wool-safe washing detergents, you can also add that to the water. Do not use any bleach or acidic treatments. Once clean, be sure to let your garment dry flat. This is to ensure that your suit does not warp. Any stain that resist your efforts should be sent to the dry cleaners as soon as possible.
Most Popular Stains:
Alcohol – Moisten a lint-free cloth with warm water and rubbing alcohol, dab gently.
Black Coffee – Apply a mixture of alcohol and white vinegar and allow to rest for few minutes, blotting out with a wet absorbent cloth followed by a dry one.
Ink/Ballpoint Pen – Soak a cloth in white vinegar and dab gently, followed by using diluted white vinegar or rubbing alcohol. Repeat the steps if necessary.
Travel
When travelling there are many fantastic cases and contraptions to carry your suit safely, but in a squeeze, a regular suit case will do. When packing a suit, remember that the less folds the better. Keeping it safely inside your Senszio suit bag, fold it once from top to bottom, and place it into your suitcase. If space is tight, pop the shoulders inside-out, fold the suit in half making sure both lapels line up with each other. Then either fold it in half from bottom to top or do a loose roll from the bottom up. Finally, fold the trouser legs together and wrap the trousers around the folded or rolled suit to finish it off. This will help prevent creases and wrinkles on the suit surface, especially in the shoulders. Once you arrive at your destination, hang it up as soon as you can on a proper hanger. Also, most hotel concierges should be happy to help you steam and de-wrinkle your suit.
Pressing
If possible, use steam. Investing in a steamer can go a long way if you're serious about prolonging the life of your suits. Using a dry iron will burn the fibers and add an unnatural sheen to the material. If your steamer isn't cutting it, take the suit to the cleaners and have them press it. If you store your suit properly and give it time to bounce back to it's unwrinkled self, steaming and pressing may not be necessary.
With gentle aftercare, your wool suit will serve you for many years. But just in case you want another suit, you can always come to us at Senszio. Our 3 generation master tailors are artisans in their craft and produce suits favoured by the influential and wealthy. Check our tour schedule here.